Here's the latest: BikePaths & Railtrails 9th Ed
VBP9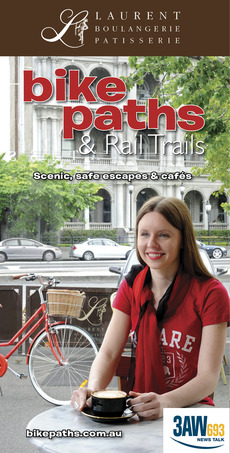 YOUR WINTER CYCLING STARTS HERE: BIKEPATHS & RAILTRAIL GUIDE – hard copy

Australia's best selling newest bike guide is the handy, take anywhere pocket size, spiral bound BikePaths & RailTrails Guide (9th edition), that's over 190 pages and is packed with Scenic, Safe off road Escapes.

It features over 60 new and fully revised maps, exciting new touring along the Mansfield -Tallarook rail trail, the new Peninsula Link and Western Bi-Pass "Wellness" trails and heaps more.
There are more than 40 fully revised metro maps covering Melbourne's fabulous network of paths, cafes, bike shops and parks!
The guide is available for around $24.95 from Laurent Cafes, Bicycle Superstores, newsagents, bike stores, book stores and map shops.
Here at our online store – $19.95 plus postage $5.95.
Victorian BikePaths & RailTrails Guide (ninth edition) published by Sabey & Associate. Mob 0418 354732
ISBN: 978-0-9579591-2-5
$19.95
Shopping Information