Two Whe

el Touring

'

European

'

style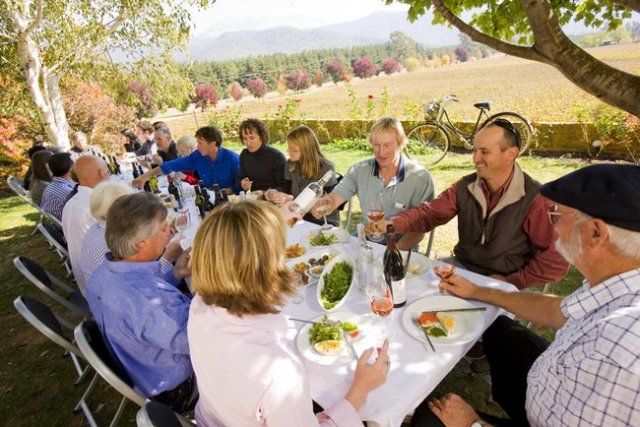 Touring through picturesque Europe by bike has been highly popular for decades

, now try these new
trails
.


Great Victorian Rail Trail map 33

East Gippsland Rail Trail map 43

The new Bike Paths & Rail Trails Guide continues the journey of discovering and bringing to you the most exciting gourmet, farm gate and top tourist destinations on Victoria's amazing rail trail networks.
In this new edition we bring you the new Great Victorian Rail Trail (map 33) and the upgraded East Gippsland trail (map 43) 'joining up the dots' and doing what we do best – telling you about their sizzle.

This edition of BikePaths & RailTrail guide also proudly presents full 'gourmet' and tourist treatment of the splendid Upper Yarra River 'Lilydale to Warburtonrail trail' and also the magical Alpine 'Murray to Mountains' High Country network, that is such an amazing escape especially for families!
We have chosen only the best of the best 'cyclist friendly' cafés, wineries (including Boyntons' fabulous Feathertop pictured), micro breweries, cheese makers and produce growers, gastro pubs, tourist attractions, transport links and accommodation to join up the 'dots' to create memorable easy to enjoy 2Wheel rail trail holidays.
Bike Paths & Rail Trails Guide RRP still only $24.95 offering three guides in one.
SAVE $4 Place your order here on our eStore to save $4 + for fast direct home or office/work place delivery.
<!—[if gte mso 9]> Normal 0

false false false MicrosoftInternetExplorer4

<![endif]—>
For full details about featured Rail Trails click one of the options in the right hand column opposite.
109 Grant St
ALEXANDRA, Victoria
Offers alfresco seating and is famous for owners Cinnamon and David's free range 'all day' brekkie' as well as mouthwatering butter milk pancakes.
Corner Ford and Church Streets
Beechworth
Beechworth, Victoria
Discover the Beechworth Honey experience and story of how the Goldsworthy family have been making honey for over four generations. Here you can see live bees in a hive busy at work up close, enjoy an amazing audio visual tour, browse through the shop and experience their honey, which The Age rates as an exceptional 8/10 honey treat.
77 Ford st
Beechworth
Beechworth, Victoria
This gourmet delicatessen and very good cafe is renowned for its coffee, antipasto, cheeses, gourmet pies, Mediterranean and Greek platters and ploughman's lunches served with a delicious range of sauces and dressings.
18 Camp street
Beechworth
Beechworth, Victoria
They have has fantastic selection of north-east Victorian wines, including famed muscats and tokays. This is a must stop shop for anyone interested in gourmet temptations such as pickles and chutneys or locally produced olive oils.
Old Coach House & Ford st
Beechworth
Beechworth, Victoria
One of Australia's leading craft brewers, brewer Ben Kraus has racked up some of this country's top awards for his refreshing porter, lager and wheat beer ales They also have a very tasty range of authentic gourmet Italian pizzas oven baked in the micro brewery.
6619 Great Alpine Road
Porepunkah
Porepunkah, Victoria
Established in 1989 by wine maker Kel and Janelle Boynton, this family owned five star award winning business captures the beauty and true essence of the Alpine Region.
Relax on their cafe-garden-deck over a delicious long lunch with a bottle of their fine cool climate wine, whilst you photograph the breathtaking views across the valley to Mount Feathertop and beyond.
Great Alpine Rd
Gapstead
Gapstead, Victoria
Sample Gapsted's excellent wines while looking across the Ovens Valley at Mount Buffalo and an attractive slice of the Alpine region. You can enjoy good antipasto and cheese platters featuring local ingredients.
2 Service Street
Porepunkah
Porepunkah, Victoria
This fully licensed track side cafe serves all day breakfasts, and what surely must be the country's best turkey BLT focaccias! They also bake scrumptious home-made cakes and scones, enhanced by free-range eggs and serve superbly crafted fair-trade organic espressos.
11 Whitestart road
Wandiligong
Wandiligong, Victoria
At the end of the new 5m Bright-Wandiligong trail is a unique must see National Trust listed heritage valley. Here you and the family can have hours of fun in the amazing hedge maze and rustic rose garden. Shoot a few holes of mini golf, then relax with one of Lyn Bullen's famous chunky beef pies in her welcoming licensed cafe.