Sip-n-Cycle cafes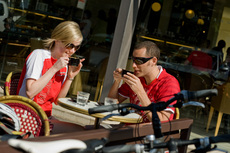 Many of the great things in life start with a 'C'!
Coffee, cafes, chai and of course cycling – this section and listing is dedicated to your enjoyable pleasures!
Over the last decade we have witnessed cycling boom as Melbourne's 'new golf' and as a petrol free way to get to work. Meanwhile hundreds of thousands of two wheeled devotees have taken to enjoying an espresso with their ride.
Just type, and we will get finding
clear search
Related content