WHERE 2 RIDE MELBOURNE
W2RMelb2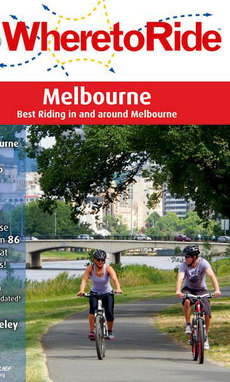 Fully revised and Updated 2nd Edition of Where to Ride Melbourne is an essential resource for anyone who wants to enjoy riding in Melbourne!
Choose from 86 great rides including 37 kids rides!
This Guide aims to introduce some of the many trails and on road rides within a 30 to 40km radius of Melbourne. The rides range from short rides, suitable for beginners or younger riders, to mountain bikes rides and longer bike trails that demand a reasonable degree of fitness and skill. Each of the rides described are rated to give a guide as to what to expect. There is also a location map and directions to help navigate you through the ride.
Designed to be a useful resource Where to Ride Melbourne 2nd edition is much more than just a good read. With clear directions, stunning photography, GPS generated mapping, and interesting background information for each ride, Where to Ride Melbourne 2nd edition sets a new standard for quality and presentation in cycling guide books.
The book uses a gloss paper stock, tough enough to cope with the rigours of sweaty hands and plenty of use out on the trail. Riders will appreciate the sturdy construction and convenient spiral binding of the book, this includes a fold out overview map of all 86 rides that doubles as a book marker with map legend, ride ratings and terrain guide. Riders can refer between the map they are using and reference information with ease.
ISBN 9780987250537, Published by BA Press.
Price $34.90 plus postage
$38.90
Item is out of stock