Rail Trails of Victoria and SA – Edition 3
rail_ed_3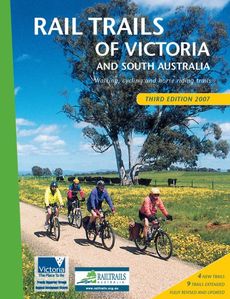 Other product images
Click to see full view
This is an indispensable guide for exploring Victoria and South Australia's historic rail trails.
The 144 page Guide features easy-to-follow maps complete with route notes plus the local railway and natural history stories and tips to help you plan and enjoy your ride.
Written by passionate enthusiasts who love rail trails, it's all you need to plan a day trip, a weekend adventure or a week-long.
It features 26 rail trails in Victoria and three in South Australia.
Published in 2007, edition 3 has been fully revised and updated with:
Four new trails
Nine trails that have been extended since the 2001 second edition
Revised and updated descriptions and maps for most trails
144 pages A5 wire bound
ISBN
9780957975927 Published by Railtrails Australia Inc
www.railtrails.org.au
Postage within Australia $5.00
$36.95
Item is out of stock