Sip-n-Cycle
Cyclists and the caffeine connection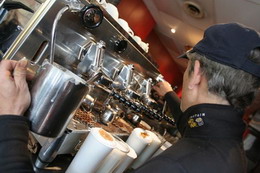 Many of the great things in life start with a 'C'!
Coffee, cafes, chai and of course cycling – this listing is dedicated to your enjoyable pleasures!
Over the last decade we have witnessed cycling boom as Melbourne's 'new golf' and as a petrol free way to get to work. Meanwhile hundreds of thousands of two wheeled lycra clad devotees have taken to enjoying an espresso with their ride, just like their European counterparts. For generations in Europe, cyclists have enjoyed a coffee before or after a ride, when their body is crying out to recover. In this country, latte swilling cyclists have helped drive an amazing espresso explosion, that saw last year for the first time, cafes serve a record breaking 350 million cups, according to a BIS Shrapnel Coffee in Australia 2006-08 report.
Why such a passionate affair with coffee?
The Bike Paths Guide asked a leading medical and cycling expert Dr Danny Eckert, what is it that drives this phenomenon? Danny is a well known former elite cyclist and these days a Research Fellow at Brigham and Women's Hospital in Boston USA. He won the Australian national uphill mountain bike title in 1996 and also went on to ride in the Herald Sun Tour and the Tour of Tasmania in 2000. He says, "There is long held tradition between coffee and cycling and no doubt the two are closely linked.
Prior to riding
He says, "Physiologically there is a rationale supported by a lot of literature to suggest that caffeine prior to riding does have a beneficial effect on performance. It has long been believed that caffeine has a "carbohydrate sparing effect" which may improve endurance performance. Although the precise mechanisms are somewhat controversial, factors such as the central stimulant effects of caffeine and its ability to increase intestinal glucose absorption may decrease muscle glucose uptake and are all potentially important in improving a cyclist's performance. "It is conceivable that caffeine combined with carbohydrate may lead to increased glycogen uptake post exercise and therefore faster recovery although this has not been tested."
Riders vote with their wheels
When it comes to choosing which café to stop for coffee, cyclists in recent years have become far more fussy as they have learnt more about taste, flavour, body, acidity and aroma. The Bean Alliance is a Melbourne based coffee roaster that in 2006 proudly celebrated 25 years of coffee production. The company produces a number of unique coffee blends and brands, of which Monte Coffee is the one with the greatest longevity in the Australian market. Monte Coffee is served in hundreds of cafes and restaurants around Melbourne and Victoria and is a very proud sponsor of the Bike Paths Guide.
Our coffee palette is changing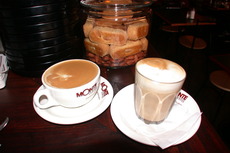 "Monte Coffee is perfect for Melbourne's evolving palate" Ange Augello Managing Director of The Bean Alliance says "the bar blends served in the cafes featured in the Bike Guide are unique. They are produced in the classic Italian-style of roasting & blending. Sensational as an espresso and the more commonly consumed – café latte – is delicious made with our freshly roasted bar blends." "Consumers are now coffee savvi. They know what they like, how it should look and taste, and exactly where they need to go to get it. They also choose their favourite cafes based on the personality behind the espresso machine; the owner or the staff who they see on a regular basis. A good barista remembers their regular customer by the coffee that they drink. A simple nod is all that is required to order the coffee exactly how they like it."
On the street or when pedalling the bike paths, how do you know when you visit a café what coffee to order and how it should look, feel and taste? Here's Monte Coffee's simple guide to some of the terms bandied around and types of espresso.