The Saturday Age Gourmet Rail Trails Feature

The Rise of the foodie biker
By Richard Cornish – The Saturday Age (5/2/11) – Life & Style
"People want secluded tree lined escapes. And they want decent food and coffee at the end of the ride" – says Mike Sabey.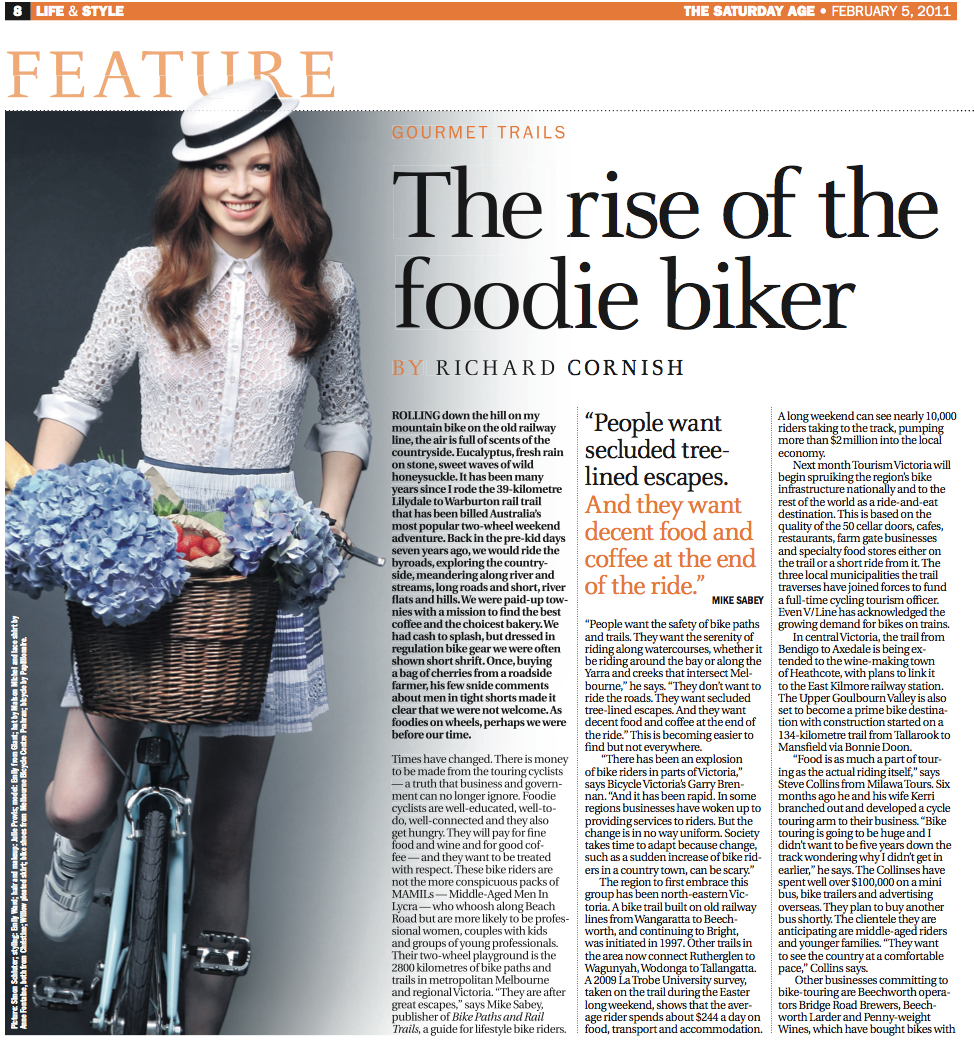 Extract:
Rolling down the hill on my mountain bike on the old railway line , the air is full of scents of the country side.
Eucalyptus, fresh rain on stone, sweet waves of wild honeysuckle.
It has been many years since I rode the 39 km Lillydale to Warburton rail trail that has been Australia's most popular two wheeled weekend adventure.
Times have changed. There is money to be made from touring cyclists – a truth that business and government can no longer ignore.
Foodie Cyclists are well educated, well to do, well connected and also get hungry. They will pay for fine food and wine and for good coffee – and they want to be treated with respect.
Their two wheeled playground is the 2,800 km of bike paths and rail trails in metro Melbourne and regional Victoria.
"They are after great escapes, says Mike Sabey, publisher of the BikePaths and Rail Trails , a guide for life style bike riders.
"People want the safety of bike paths and trails. They want serenity of riding along watercourses , whether it be riding around the bay or along the Yarra and creeks that intersect Melbourne," he says. "And they want decent food and coffee at the end of the ride."
"Food is as much a part of touring as the actual riding," says Steve Collins from Milawa Tours (who run regional bike tours).
Reference: BikePaths & RailTrails guide – $24.95 at all RACV shops, bike stores, book stores and on line at www.bikepaths.com.au
Click here to read Richard's excellent and very extensive two page feature article