Government continues to ignore 'car dooring' threat to life and limb
By Mike Sabey 3/3/2015 Tougher dooring penalties call rejected, further call for motorists to alter their habits!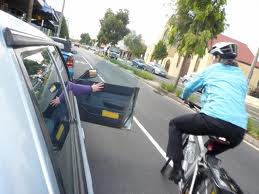 The new Victorian Labour state government is following the ousted one from 2014 by continuing to stonewall and ignore the issue of widespread car dooring.
Three recent dooring deaths, countless un counted dooring incidents in which no one was killed or maimed and the police refuse to register such incidents or book offending motorists clearly indicates that our road authorities are not serious about taking a broad range of steps to make cycling safer!
From my observations on two wheels, despite Chapel St Prahran having newly painted fake 'anti dooring' bike lanes, the frightening frequency of doors being opened into the path of cyclists has not gone down, but appears to be on the increase.
The Government continues to fail to meaningfully fund proper separation between cyclists and vehicles and by placing dooring issue in the 'no budget basket', it hopes this problem might over time, go away!
Former Premier calls for a 'change of habits'
In the Herald Sun on 4 March Jeff Kennett wrote, "As the roads become more congested and more people take to bicycles, it is a potential (safety) occurrence we all will face.
"It happened to me last year. The car in front of me moved to the left, I did likewise to avoid a collision and to my horror saw a cyclist moving quickly up on the inside. The movement of my vehicle forced him to move sharply to the left and put him at risk. It was a dreadful feeling to realise that I might have caused him harm. I hadn't, but I was shaken.
"As commuting becomes more difficult and time-consuming — and with our public transport operating at capacity — the rise in the number of cyclists will continue and we will have to provide more infrastructure for them.
"Motorists will also have to alter their habits — when we park our cars, we must check for cyclists before opening doors and we must learn to use our side mirrors more.
"Cyclists should wear clothes that stand out and maintain as straight a line as possible when riding rather than ducking and weaving through traffic." Mt Kennett concluded.
Tougher dooring penalties call rejected
In The Age on Tuesday 3rd March 2015 an article reported: The introduction of tougher penalties against motorists who open car doors into cyclists' paths has failed to have any impact on the sometimes deadly offence, the Andrews government said as it rebuffed calls to crack down harder on "dooring" after the death of Italian Alberto Paulon.
Mr Paulon, 25, was killed on Friday 27 Feb when a motorist opened a car door into his path and he was knocked beneath a truck as he rode along Sydney Road in Brunswick.
The new Roads Minister Luke Donnellan said fines for dooring jumped sharply two years ago, but with no benefit.
The on-the-spot penalty for dooring was increased in 2012 from $148 to $369. The maximum court imposed fine rose to $1476.
"An evaluation of this penalty increase showed that increasing penalties for dooring had no substantial impact on driver and passenger behaviour," Mr Donnellan said.
"The issue of dooring is obviously more than about increasing penalties. There needs to be a greater focus on changing driver and passenger behaviour."
Penalties were increased following a parliamentary inquiry into the dooring death of cyclist James Cross on Glenferrie Road, Hawthorn in 2010, the last dooring fatality in Melbourne before Friday.
18 December 2014. A driver was convicted and fined $1200 over a dooring in Highett Road in May where the bike rider died of head injuries in hospital eight days later.
Infringments going down but the problem continues to increase:
Victoria Police issued 165 infringement notices for dooring in 2013-14, eight fewer than the 173 notices it issued in 2012-13 but up on the 2011-12 figure of 152.
Victorian Greens leader Greg Barber reiterated the call he made during the inquiry that demerit points be imposed on motorists who commit a dooring offence.
The stretch of Glenferrie Road where Mr Cross was killed has since become home to Victoria's first anti-dooring bike lane – a narrow green stripe of paint that directs cyclists to ride on the right-hand side of the lane at a safe distance from parked cars.
Installed in March last year, the 900-metre lane has changed the behaviour of many cyclists and motorists on Glenferrie Road, an observational study found.
VicRoads' regional director south east, Aidan McGann, said before-and-after footage revealed most drivers were observed tracking closer to the roads' centre line and fewer encroached into the bike lane.
But he cautioned that an anti-dooring lane might not necessarily be the answer for Sydney Road, warning "there is no one-size-fits-all approach to ensuring greater road safety".