Darebin Trail Link FINALLY OPENS !
The opening of the trail marked the end of an almost 25-year journey, dating back to 1993 when the first concept plans were developed. The Community Coalition for the Darebin-Yarra Trail and Bicycle Network Victoria were at the forefront of this long campaign and the opening was a great victory for both groups.
The trail features:
a three-metre-wide concrete trail
three bridges over the Darebin Creek (notes 1, 2 and 3 on trail map)
a cantilevered structure behind the Latrobe Golf Course Maintenance Building (note 4 on trail map)
a four metre wide bridge over the Yarra River (note 5 on trail map)
security fencing alongside the trail through Alphington Grammar School and Latrobe Golf Course with access to the trail available at Sparks Reserve in Ivanhoe and Willsmere Park in Kew East.
Cyclists have fought for more than 20 years to see the trail connected between Alphington and Kew, and link Melbourne's north-east with the rest of the city's web of off-road bike paths.
wrotes Adam Carey Transport Reporter for The Age 29/02/16
The $18 million connection, which includes the construction of five new bridges, was first promised in 2006 but has languished for years because of opposition from councils and the failure to acquire land.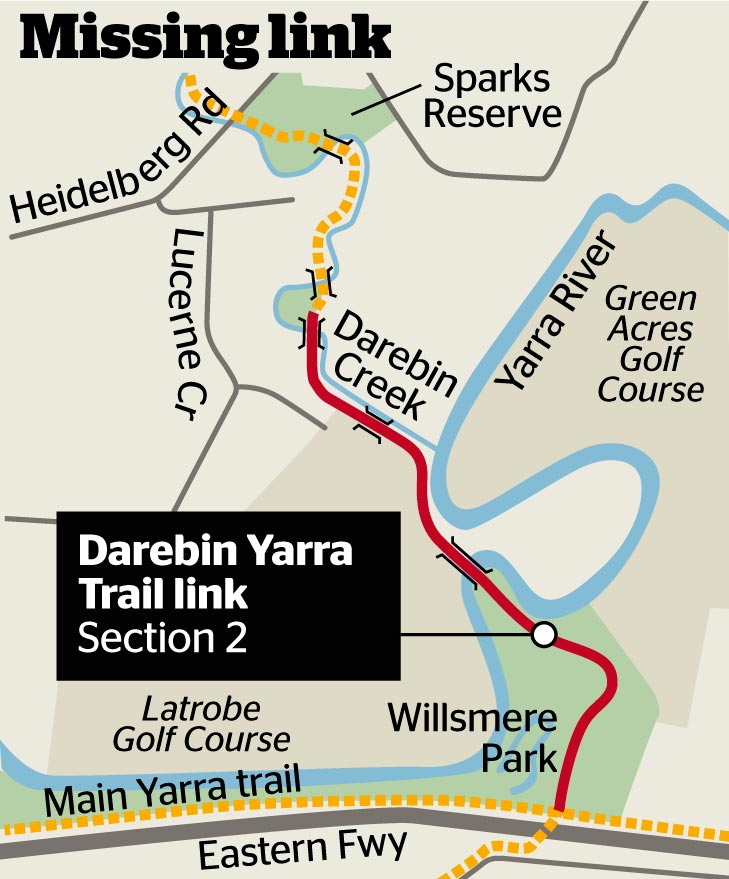 The first stage of the path was built by the former Napthine government, before the project stalled over disputes with Boroondara council and the Latrobe Golf Club over land access.
The completion of the kilometre-long final section of the Darebin-Yarra Trail will include a three-metre wide concrete cycling path extended through Latrobe Golf Club and Willsmere Park to connect with the Main Yarra Trail in Kew East near the Eastern Freeway and a 50-metre bridge across the Yarra.
"Building the missing link in the Darebin Creek Trail now safely connects northern suburbs residents to more than 600 kilometres of cycling trails across Melbourne," Minister for Roads Luke Donnellan said. The final stage of the trail will open in late 2017.
Read more: http://www.theage.com.au/victoria/missing-link-in-darebin-bike-path-to-be-built-20160228-gn5sne#ixzz41WjOvYvf