20% Discount: Scenic, Safe Escapes: LATEST Edition Bike Paths & Rail Trails Guide

YOUR CYCLING FUN STARTS HERE AND ITS 20% CHEAPER - DISCOVER MELBOURNE'S TOP SCENIC BIKE PATHS AND FABULOUS BIKEWAYS AND VICTORIA'S "EPIC" RAIL TRAILS
By Mike Sabey – Editing Publisher (Sabey & Associates)
Continuing to be Australia's best ever selling, continuously available bike trails hard copy map book!
* 100's of Scenic Safe off road Escapes along Melbourne's fabulous bike trails
* European style bicycle touring along Victoria's renowned rail trails
* Discover the best Sip n Cycle cafés sponsored by Laurent Boulangerie along the bike paths in Melbourne.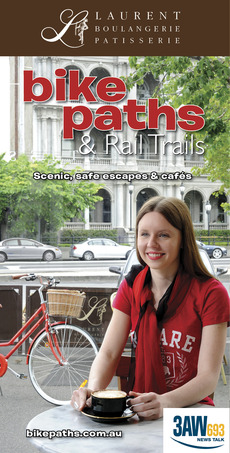 This all new re-badged handy, take anywhere, pocket size, spiral bound Bike Paths & Rail Trails Guide (9th edition) is over 180 pages and carries 60 new and fully revised maps including the new Mansfield to Tallarook rail trail, plus the Peninsula Link and the Western Bi-pass "Wellness" Trails.
Here, you will find where to ride bikes, whether its on bike trails or Melbourne's bike paths.\
You can place your order here on our eStore site where you save $5 off for fast + direct home or office delivery.
Bike Paths Melbourne has more than 40 fully revised metro maps covering Melbourne's fabulous network of tracks, paths, bike trails, cafes and leading bike shops!
Was $24.95 rrp available from newsagents, bike stores, book stores and map shops is now on sale here for $19.95 from our E-store on this site.
European style Two Wheel Touring
24 Victorian rail trails maps, including Bairnsdale to Orbost
Cafes, wineries, hotels and more
Motels, buses & info centres
Destination Sip n Cycle Cafes on the paths & trails
Metro bike tracks in Melbourne
Melbourne cafes and country cafes
Ride to work cafes
RRP Now only $19.95 - offering three guides in one for the lowest price in years

OR place your hard copy order here at our online Store to save $5 of RRP for fast direct home or office delivery.
ISBN: 978-0-9579591-2-5