Save 62% off End Edition 8 BikePaths & RailTrails Guide
62%

OFF

End of Edition 8: BikePaths & RailTrails Guide you can

NOW

save

BUT

only at our online Store

Last chance to snap a copy of Australia's best selling hard copy cycling guide – is really four guides in one!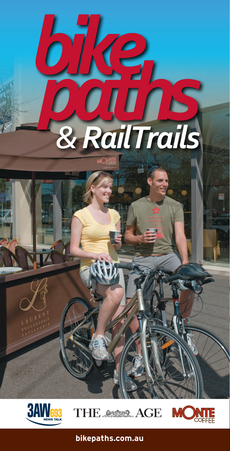 * 100's of safe off road escapes along Melbourne's fabulous bike paths * European style 2WheelTouring on the rail trails * Victoria's best Sip n Cycle cafés sponsored by Monte Coffee and * the Ride to Work bible.
This all new re-badged handy, take anywhere pocket size, spiral bound BikePaths & RailTrails Guide (eighth edition) is over 200 pages. It is 50% bigger than before and features 80 new and fully revised maps, exciting new touring and Ride2work chapters. It has the new Port Fairy and Rutherglen rail trails and the O'Shannassay Aqueduct trail, the top cycling and pram walk parks and heaps more.
There are more than 40 fully revised metro maps covering Melbourne's fabulous network of paths,cafes, bike shops and parks!
The guide Was $24.95 but with our 62% OFF IS NOW ONLY $9.45 plus packing and postage $6.95.
Save $12.50 off the rrp but only at our E Store here on this site!
Place your order here at our eStore to save 50% for fast direct home or office delivery.
Ride2Work – Save more than $6,000 a year
How to get started
Bike and gear selection
Experts tips and advice
Ride2Work maps + cafes
Sponsored by Malvern Star
European style 2WheelTouring
22 rail trails maps
Cafes, wineries, hotels
Motels, buses & info centres
Lilydale-Warburton trip ideas
Beechworth & Bright touring
Pedal to Produce
SipnCycle Cafes, the best cafes on the paths & trails
Country town cafes listings
Metro and country cafe maps
Ride to work cafes