Where to Ride? Try Williamstown?
Looking for a perfect day bike ride ?
Then why not head down to Hobsons Bay at the mouth of the Yarra with your togs and towell? (MAP 16 IN THE GUIDE)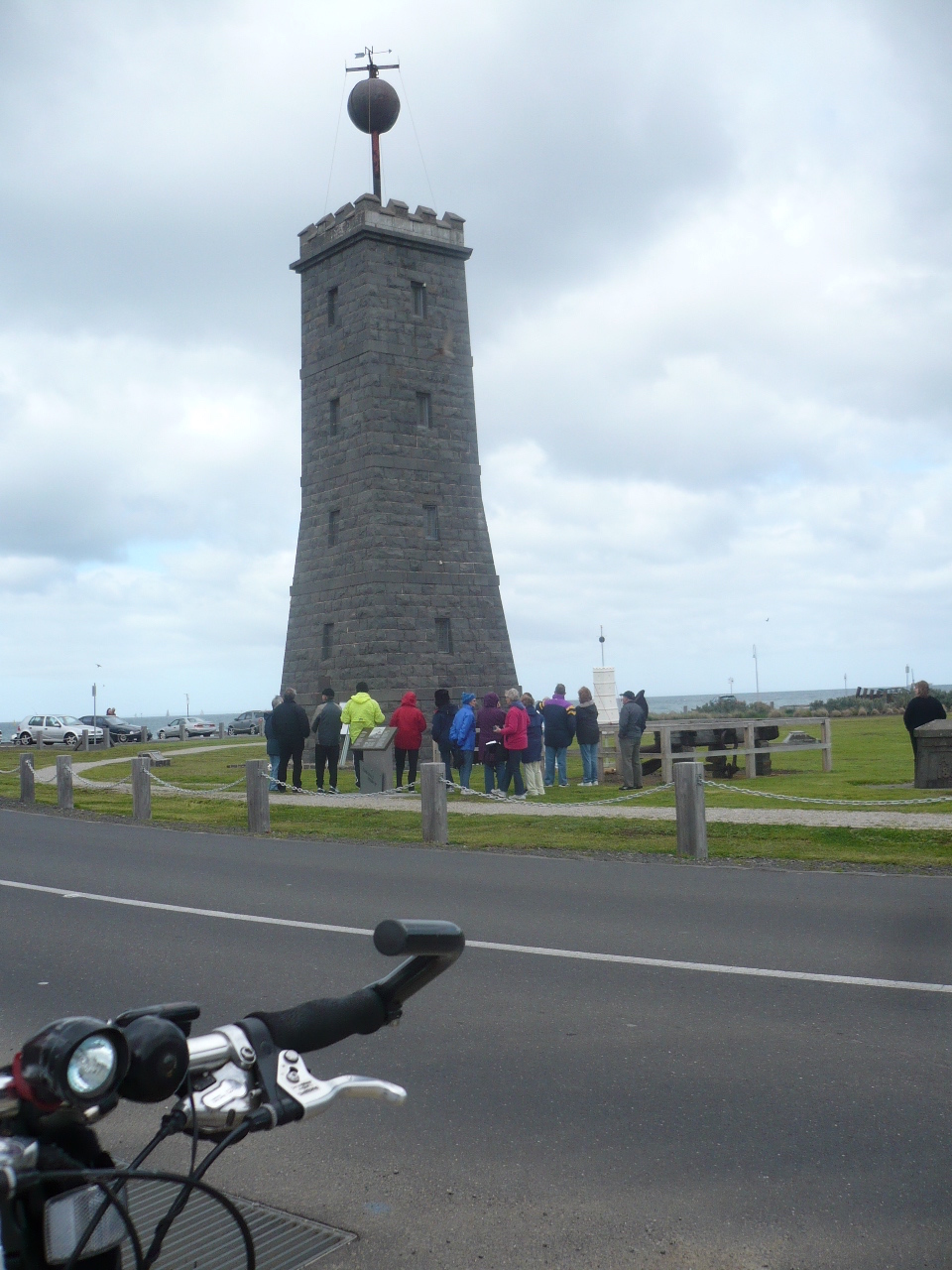 Pictured: The Timeball Tower, built in 1849 to help ships' captains out at anchor on the Bay set their ships' chronometers.
In May 2014 The Age food writer Richard Cornish wrote about six reasons to visit Williamstown;
1. VISIT the historic Nelsons Place waterfront- see the free Williamstown Path map #16 in the MAPS tab on this site for all the go to info.

2. Walk ON THE BEACH at Willy is a well-groomed strip of sand, sheltered and patrolled in summer. In winter the walking track from the centre of town to the beach offers brisk but beautiful walks right on the edge of Hobsons Bay, looking across to Beaumaris and the Mornington Peninsula.
3. PIRATES Visitors are truly welcomed at Seaworks, part of the docks at Williamstown. Here you can get up close to Sea Shepherd's boat SS Bob Barker (pictured when in port and not chasing the Japanese whaling fleet) and see the battle scars from her being rammed in the Antarctic. Seaworks, 82 Nelson Place, Sat-Sun 10am-4pm, seaworks.com.au
4. GOOD FOOD When local resident and Movida chef Frank Camorra says his favourite place to eat is "the Croatian restaurant" called Ragusa, where the team serve up traditional Croatian dishes with a strong emphasis on seafood. Ragusa, 139 Nelson Place ragusarestaurant.com.au
5. BOTANIC GARDENS Williamstown's Gardens are truly beautiful. Designed in 1857 by Edward La Trobe Bateman, they are considered the earliest intact botanic gardens in the state. , Corner Giffard and Osborne streets.
6. BIKE PATH Discover this beautiful part of town on bike using the Williamstown bike path. The bike path follows the seafront at Williamstown, past the shipyards and around to Point Gellibrand Heritage Park, once the seaport to the colony. Here you'll find the Timeball Tower, built in 1849 to help ships' captains set their chronometers. Here you will also find the old bluestone quarry, from which much of the rock used to build Williamstown's grand buildings was mined. An interactive map of the area can be downloaded from parkweb.vic.gov.au.
The path continues along Williamstown Beach (great swimming spot) and at Gloucester Reserve you will find a small marina roughly built from bluestone blocks and decked with rustic wooden planking on which pelicans quietly sunbathe. Here, artist John Perceval painted some of his famous scenes of Williamstown in the 1950s. From here the path continues into Jawbone Reserve, a network of wetlands and mangroves where one can see migratory wading birds, herons and circling birds of prey with the stark but striking Altona refinery forming an eerie industrial backdrop. Williamstown bike path, www.bikepaths.com.au
Map 16 – Wlliamstown in the Guide, can be seen under maps tab on this site.
Bike Paths & Rail Trails Guide RRP still only $24.95 - offering three guides in one.
YOU CAN SAVE $4 by placing your order here on our eStore to save + for fast direct home or office/work place delivery.