NEW PUSH FOR SPEED LIMITS ON BIKE PATHS
A PASSIONATE cycling safety advocate is calling on local councils to introduce 20km/h speed limits on shared bike paths. PortPhillip Leader 17/09/15
Toorak resident Boyd Fraser says there is an "urgent need" to regulate the conduct of cyclists on shared bike paths like the Bay Trail in order to "maximise their amenity" for all users.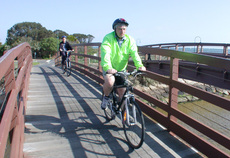 Mr Fraser regularly uses the Bay Trial and believes due to its growing popularity a serious high speed accident could be just around the corner.
"Do we want to have a child bowled over because some feel it's their right to speed along shared pathways?" Mr Boyd said.
The BikePaths Guide suggests a path top speed of 25km/hr, but much less when conditions do not suit. A max of 20km/h is envisaged by Austroads for all shared paths.
According to Port Phillip Mayor Amanda Stevens, "Council is willing to consider developing an "adopted position" with regards to controlling cyclist speed on shared pathways."
VicRoads is in discussions with a number of councils around Melbourne about the issue of speed on shared paths and is collecting data from bicycle counters set up on the shared paths around the city.