Looking stylish cycling to work
Kathleen Lee Joe – The Age 05/11/2014
On spring days like this, there's nothing more pleasant than zipping through our city streets on your cruisey bike. And you don't have to be decked out in head-to-toe spandex to enjoy the ride. You've got yourself some stylish spokes, and now to sort out your stylish ensemble.
TAKE ADVANTAGE OF OUR SPECIAL RIDE TO WORK EDITION $9.95 OFFER: See Below how to save !!!

Here are our tips for making cycle chic look effortless while you're busy pedalling your way to Beyoncé thighs.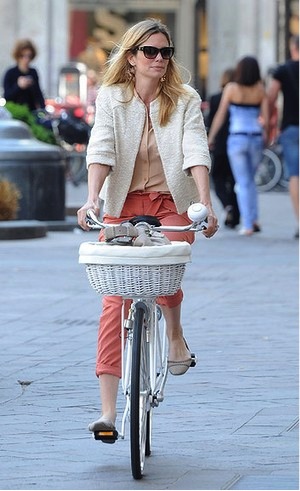 Swedish TV presenter Filippa Lagerback pictured, looks enviably stylish atop her bicycle. Photo: Getty Images
The shoes
Casting agent, blogger and adept Belgian biker Natalie Joos has become an expert in pedalling in sky-high heels. "Well, it's harder to walk in them," she says. We love to channel Joos and other ubiquitous street-style stars in Amsterdam, Copenhagen and Milan when getting from A to B, but we also acknowledge the impracticalities of doing so. Rely on a pair of trusty Converse, Adidas Stan Smiths or classic Superga sneaks instead.
The gear
When it comes to cycling gear, wear clothes that are close to the body so they don't get caught on the chain. LAAIN specialises in activewear and their scungies are the best we've seen – you're not competing in a velodrome or traversing a rocky terrain, so padded Lycia is a no-go zone. Slip the shorts on underneath a skirt or dress and take them off when you arrive. It saves you from lugging around a change of clothes and will give you the confidence to hike up your hem and stand up on the pedals with reckless abandon as you roll down them slopes.
The helmet
Doesn't it make you angry when you see a cyclist riding past with a naked noggin? These printed helmets by Nutcase or this more understated black design will have you itching to buckle up. Just ensure it's a snug fit. And to save yourself from breakouts, wash your helmet padding regularly with cleanser to prevent it smearing scalp sebum across your forehead.
The outerwear
Stay warm against the brisk winds with a good quality waterproof jacket or rain cover. The eye-popping ones from Uniqlo are a trusty pick, while these capes from Cycle Style have reflective strips so you're easily visible at night. There a more luxe options by Christopher Raeburn and Stella McCartney for Adidas and if you happen to be a relatively pint-sized grown-up, you can even hit up Stella McCartney Kids in the largest size category for stylish options such as this. Biking in the rain, not totally terrible after all …
The make-up
Want no-budge, no-smudge makeup? Always prime the skin first to ensure your foundation stays put and opt for a lip stain that you can also use as long-wear blush for a pedal-happy face. When donning a helmet, tie up your hair in a commuter-friendly style such as this side braid or messy low bun and save yourself from greasy, tangled, sweaty hair by wearing a moisture-wicking silk scarf underneath.
TAKE ADVANTAGE OF OUR SPECIAL RIDE TO WORK EDITION OFFER:
The guide previously sold for $24.95 but if you buy it at our E-store on this exclusive Ride to Work promotion you pay only – $9.95 plus postage $6.95.
If you are interested in joining in the fun then this edition 8 shows you how …..
• To get started
• What gear to use and wear
• Choice of bikes
• Planning your commute
• What to do if rains
• How to cope in traffic
• And lots lots more
• BikePaths & RailTrails Guide (eighth edition) has over 200 pages
• It features 80 fully revised maps, exciting new touring and ride2work chapters, has the new Port Fairy and Rutherglen rail trails and the O'Shannassay Aqueduct trail.
• There are more than 40 fully revised metro maps covering Melbourne's fabulous network of paths, cafes, bike shops and parks!
• The guide previously sold for $24.95 but if you buy it at our E-store on this Ride to Work promotion – $9.95 plus postage $6.95.
• Victorian BikePaths & RailTrails Guide (eighth edition) published by Sabey & Associates