Victorian Bike Paths Guide (7th Edition)
The Perfect gift for the cyclist that knows everything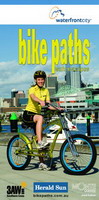 This is Australia's best ever selling bike trails map book!
Victoria's Bike Paths Guide (sponsored by Waterfront City) features 68 bike maps and reveals more than 2,800 km of safe off road paths and hidden secrets for the cyclist to discover and enjoy. This is the cyclists map bible to find Melbourne's bike paths and country rail trails.
Its ideal for beginners as well as advanced riders who want escape ideas.
The Guide covers all the destination bike trails in Victoria and has more including Sip-n-Cycle cafe stops, al the new metro and regional Rail Trails, parks to cycle in and to explore.
With splash proof cover and pages, fold back binding and page markers, this handy Guide is designed to be taken along on your ride.
The fully revised 7th edition has:
Seventy sixty six informative new and fully updated colour maps
Updated Inner City and Waterfront City maps
More than 2,850 km of safe and friendly paths
Best Sip-n-Cycle cafés along the trails (sponsored by Monte Coffee)
18 Rail Trails with colour maps including the new Western District paths
Hundreds of metro, regional and coastal trip ideas
What's New
New $14 m Federation Trail along the Geelong Freeway linking Brooklyn with Werribee
Bayside Ride west from the Spotswood Yarra Punt to Sanctuary Lakes
new Hume Freeway path running 14.5 km north from the Ringroad
New lower price $24.95 rrrp incl

GST

means more pedal for your crank
Good Bike Shops click here
Bicycle Victoria

RACV

shops
David Jones
Angus & Robertson
Dymocks
Myer
Collins Booksellers
Independent bookstores and newsagents
Map shops