Tip: Where to Ride for a great escape: Try a cruise down the Bay's famous piers and beaches?
By Mike Sabey
Melbourne's Bayside ride is famous for its hoards of Saturday and Sunday morning cyclists sweeping along Beach Road with their heads down and speedos ticking over 35 km/hour!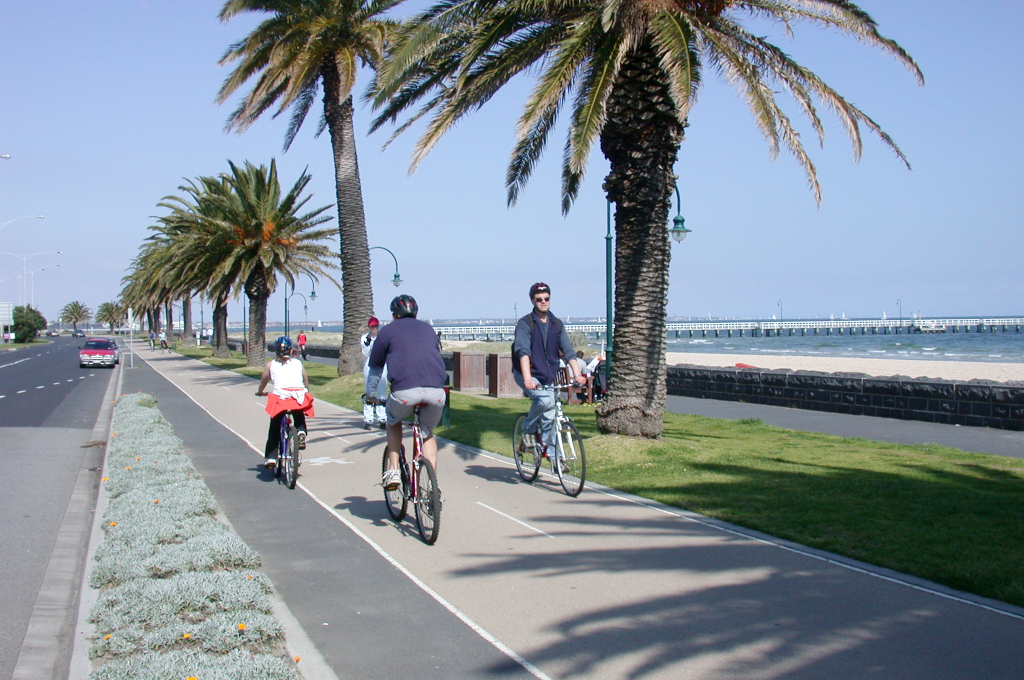 But next to the road is a safe and scenic bike path where at a sedate 15 km/hour you can cruise past some of Melbourne's most iconic beaches and take in Port Phillip Bay's sweeping blue waters. If you have plenty of time you can even ride out on the many piers enroute and even take a dip (if its hot). And importantly there's a choice of heaps of classy cafes to prop you bike against for a refreshing drink or espresso!
See Bike Paths & Rail Trails guide maps A, 16, 17 and 22 and cafe locations shown in map C (p 8&9).
Start: From Port Melbourne where there is plenty of free parking in side streets inland from the pier and Beaconsfield Parade. Its well worth checking out the refurbished Princess Pier that began life in 1912 and has seen some historic highs including massive shipping and troop movements during two world wars and suffered some dilapidated lows.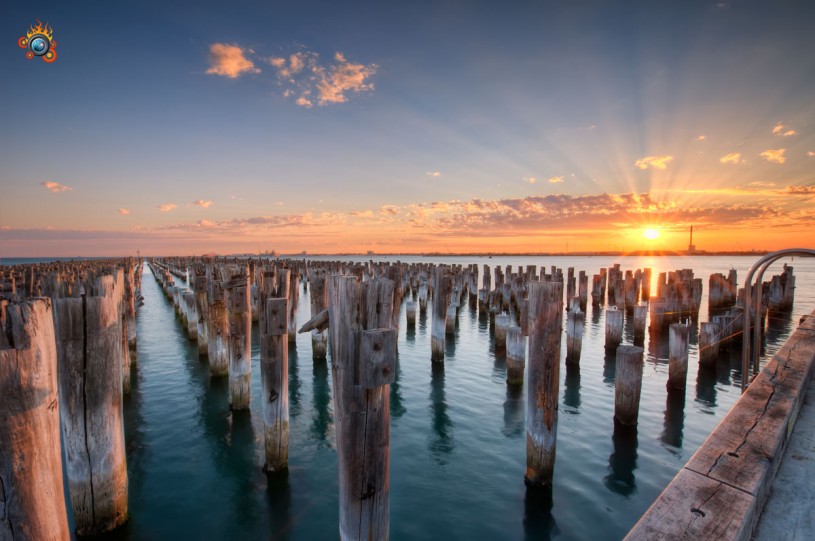 But now it has now been fully redeveloped with nearly 200 meters of the pier being restored with exposed wooden pylons (pictured above) continuing far out into the distance that photographers love to capture.
Station Pier 300 metres south was constructed in 1854 as Melbourne's shipping gateway to the world and today it is linked by a 4.5 km tram link to the CBD. The pier was extended after the 1850's gold rush to 661 metres, to accommodate the ever-increasing volume of larger ships that today includes huge cruise liners and the Spirit of Tasmania ferry terminal.
Cycling south along the Bayside path towards St Kilda there is heaps of beach front action and popular fishing spotspots to be seen around several lifesaving clubs and Kerford Road Pier at Albert Park.
Kerferd Road Pier has stood at this site since the 1880's and once there were swimming baths built some 200 yards west coinciding with the surge of popularity of sea-bathing, and a new understanding of the outdoors as a source of health and vitality. Hotels sprung up such as the Victoria Hotel and local guest houses opened to cater for a flood of beach goers and tourists.
St Kilda Pier
Two kilometers further south, lies St Kilda Pier with its famous breakwater that is a major landmark. More than 700 penguins call it home nestling amongst the breakwater's huge rocks rearing their young. This is a purely recreation pier that over its 130 years history has constantly attracted thousands of promenading visitors and even Royal visits. It offers superb Bay views, excellent coffee at the Kiosk, fishing, ferry trips or club sailing. Its home base and marina to the Royal Melbourne Yacht Squadron famous for hosting the 1956 Olympic sailing regatta. Near by when the sea breezes pipe up, intrepid kite boarders on fragile boards with fins thrill afternoon crowds with their amazing aerial antics!
Elwood Life Saving Club
This was Victoria's first life saving club established in 1911 at Point Ormond, but later moved to its present mid Elwood beach location. The Club's founding fathers pushed for change in the then state legislation to allow 'open sea' and 'mixed sea' bathing as the laws of the time decreed sea bathing could only be enjoyed in enclosed 'bathing houses' dotting the shoreline of Port Phillip.
Middle Brighton Pier
Cycling a further 5 kilometers south east along the winding Bay path you can enjoy non stop scenic views to the west as you round Point Ormond and pass the Elwood Beach complex of clubs and cafes. Middle Brighton Pier is famous for its two landmark structures, its sea baths and the marina nestled behind the Breakwater.
Despite numerous Bay storms over the 130 years that have wreaked carnage time and time again, these are the only seabaths to survive from the 1880's. A huge storm in 1934 wrecked the baths which were replaced by the cream brick building and baths still in use today. In 2001 the baths saw the addition of the café, restaurant and gymnasium.
Brighton's famous Icebergers, a hardy group of locals who swim all year, can be seen here on frosty winters mornings braving the freezing waters. Further along the pier is the Royal Brighton Yacht Club marina that is used by hundreds of keel boats and hard standing day sailing yachts.
Dendy Street Beach Bathing Boxes
Just one kilometre south from Middle Brighton Pier you will encounter Dendy Street's famous multi coloured bathing boxes (this is a great beach for a refreshing swim).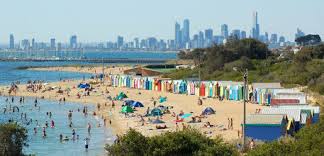 The first of these boxes was built in 1862's and by the turn of the 19th century, as bathing became hugely popular many more were constructed. Today over 80 iconic boxes remain that are a hot favourite with photographers and artists alike, especially when viewed from Green Point or along the beach with the Melbourne skyline towering in the background.
Hampton Pier and Sandringham Breakwater
Following the extension of the rail line from Brighton Beach to Sandringham in the 1880's, beach goers from Melbourne flocked to the natural bush Hampton foreshore and fine cliff top walks and the new coffee palaces and sea baths that soon popped up.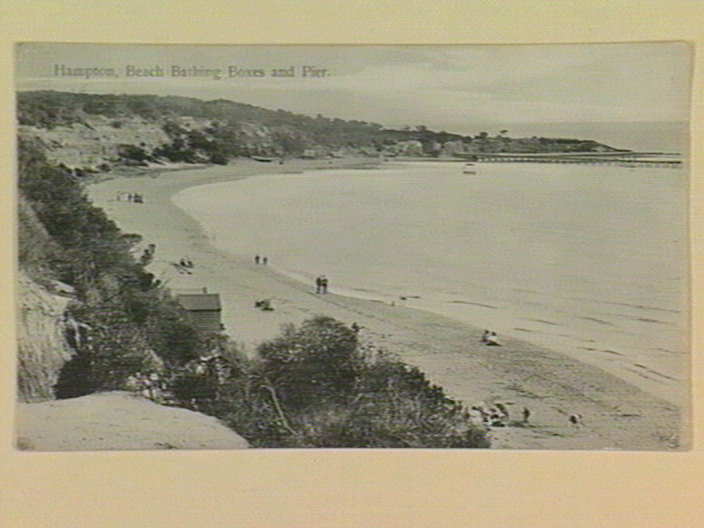 The Hampton Pier was soon after built making the area a very attractive and popular beach resort. A series of breakwaters constructed between 1900 and 1930s help protect small pleasure craft, that today is home to the 103 year old Sandringham Yacht Club.
More info: : Bike Paths & Rail Trails Guide maps A, 16, 17 and 22 and cafe maps C (p 8&9).