Murray to Mountains 'Gourmet Heaven' 2wheel rail trail touring

Historic towns, wineries, numerous gastro temptations along the Murray to Mountains rail trail, includes cheese factories, chocolate shops, olive, honey and berry farms, the Pedal to Produce scheme, cafes and restaurants, plus a host of natural alpine attractions. They have helped this network of trails to become known Australia wide as a 'touring Mecca' ideal for family 2wheel touring!
The Murray to Mountains Rail Trail network features the following excellent rides:
Wangaratta to Beechworth – 41km
Wangaratta to Milawa Gourmet Region – 15km
Gapsted to Bright – 38km
Wangaratta to Bright – 83km
Rutherglen to Corowa – 11km


Click here to view our map!
Wangaratta – Milawa – Beechworth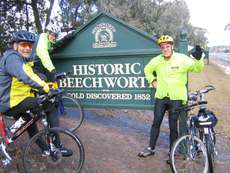 The newly opened 15km path from Wangaratta to Milawa via Oxley leads you the gourmet district made famous by Brown Brothers and Milawa Cheeses. Here a series of quiet back roads connects you with the main rail trail up to picturesque Beechworth, which the country's best preserved Gold Rush Town that has so much of Ned Kelly's history presented in the town's museum and courthouse buildings.

The following selected destinations are in Alphabetical A-Z order by town name come highly recommended. .