Great Victorian Rail Trail – map 33
Mansfield to Tallarook 121 km
Alexandra Spur Line 13 Km
A superb highlight and photo op is crossing Lake Eildon over the fampus 385m long Bonnie Doon Bridge
This newly opened rail trail that in part runs next to the mighty Goulburn River, is ideal for mountain bike riders with its promise to bring alive unparalleled scenic mountain views, undulating hills and farmlandsA trail highlight is crossing the scenic 385 m long Brankeet Arm Bridge over picturesque Lake Eildon. with 55 bridge crossings.
The Great Victorian Rail Trail is a shared use trail that can be cycled, walked or ridden by horse, and there are loads of shorter sections from the many towns and villages dotted along its route.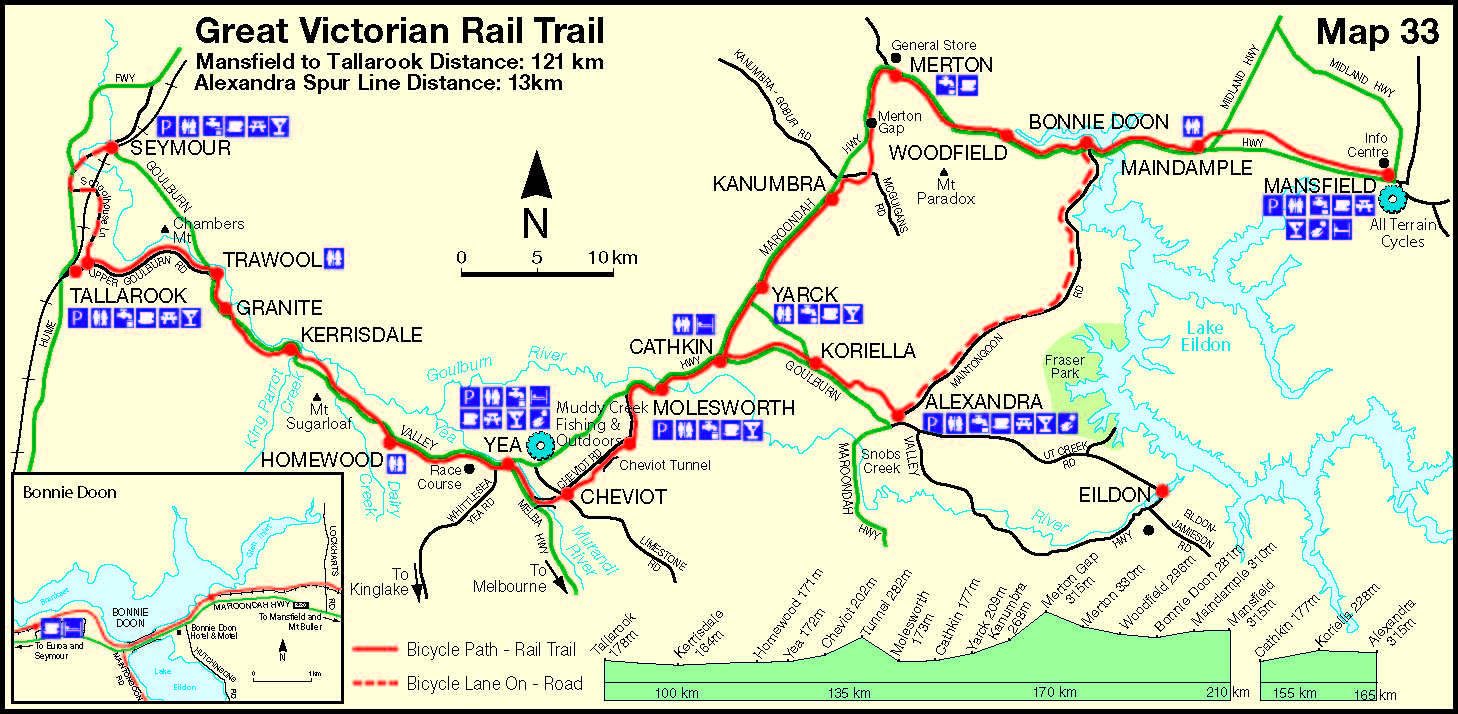 Set on the historic Tallarook to Mansfield branch line running off the Melbourne to Albury train line, it was built in the 1880s, helping to open up the north east high country through to the foot of Mt Buller.
Situated around 8.5 km east of Yea is the historic 200m long Cheviot Tunnel which cuts through under McLaughlin's Gap was built with 670,000 locally made bricks.
After carrying forest timber, farm produce and passengers for nearly one hundred years, the line saw the last train run from Mansfield in November 1978.
It was reopened in 2012 as the Great Victorian Rail Trail, becoming Australia's longest continuous multi use path traversing 134 kilometres. Its compacted gravel or granite surface best suits mountain, hybrid and touring bikes. Between towns drinking water is generally scarce, so make sure you carry extra bottles.
This new rail trail is bringing a welcome surge of two wheeled visitors to the region, that sees local operators of cafes, pubs, bike shops, tours, bakeries, motels, B&Bs and camping grounds gearing-up to welcome the influx.

Great Victorian Rail Trail's amazing experiences
Gateway to Goulburn River to Yea
Historic ride from Yea to via Bonnie Doon to Mansfield
Spur Line trip Cathkin to Alexandra
More touring info: Bike Paths & Rail Trail Guide
or www.greatvictorianrailtrail.com.au

Trip Planning Ideas
Two days Mansfield to Yea – over night in Bonnie Doon
Tallarook to Bonnie Doon – over night in Yea
Alexandra to Tallarook – over night in Yea
Three days Mansfield to Yea then ending in Tallarook – over night in Bonnie Doon and Yea
Alexandra to Tallarook via Bonnie Doon – over night in Bonnie Doon and Yea
Road Distances Melbourne – Tallarook 100 km; Melbourne – Yea 131 km; Melbourne – Mansfield 207 km
V Line trains and buses Tel 136 196 vline.com.au
Mansfield Info Centre 175 High Street Tel 1800 039 049 mansfieldmtbuller.com.au
Alexandra Visitor Info Centre Tel 1800 652 2698 alexandratourism.com
Yea Visitor Info Tel 5797 2663 yea.com.au/tourism/index.htm
Bike Hire, TRANSFER and tours
Mansfield All Terrain Cycles 58 High Street Tel 5775 2724 allterraincycles.com.au
If you start your ride in Mansfield, ATC's very friendly and passionate staff will give you all the latest expert advice on the trail and check your maps for the trip. They do last minute adjustments, repairs and carry a full range of touring accessories and even hire or sell you a new bike plus provide local tours or bus transfers along the trail.
Rail Trail Bike Tours Mob 0417 594 998 railtrailbiketours.com.au
With trail experts suggesting to only ride Australia's longest trail one way, Mark Spencer specializes in guided or self guided, flexible, stress free tours starting either from Tallarook or Mansfield from budget to gourmet tour packages. There are options of bike hire, luggage or bike transfers, accommodation, plus free inspiring trip suggestions and information about the best local sights, vineyards and eateries.
Yea Muddy Creek Fishing & Outdoors 1/10 High St Yea Tel 5797 2789 muddycreekfishingoutdoors.com.au
Ben Dean's popular Yea sports store caters not only to cyclists with bike hire, new bikes and accessories and trail transfers, but also campers, 4WD and fishers.
Trail Descriptions
Tallarook to Yea – 41km
Nestled at the foot of the magnificent Tallarook Ranges, Tallarook's quiet history is closely linked with that of Victoria's railway network. Trains from Melbourne still stop at its historic station that opened 1872. A branch line to Yea was built in 1880s and later extended to Mansfield and Alexandra. This is the western starting point of the Great Victorian Rail Trail.
Follows the Goulburn River up a picturesque valley
Trawool Resort welcomes cyclists for a refreshing ale or meal.
Compacted gravel surface trail.
Carry extra water as there are no refilling places enroute
Yea is a medium sized regional town boasting good hotels, a supermarket and numerous cafes and bakeries to enjoy a meal. The restored Yea Station has a great playground, picnic facilities and a skate park. The old goods shed is now being used by local artists. The development of the Y Water Centre at the Yea Wetlands (opening early 2014) will provide visitor information and an interactive display associated with the significant wetlands and boardwalk that is quiet refuge to contemplate where Aborigines once hunted and gathered 'bush tucker'.
Yea to Cathkin – 20km
Compacted gravel surface trail.
Features lots of bridges on the Yea and Goulburn River flood plains
In the middle section is a climb up to the 200m long historic Cheviot tunnel, which even though it's straight, it is usually quite dark in the middle, so take extra care and turn on your lights.
The town of Molesworth boasts a popular pub and otherwise only basic facilities
Cathkin to Bonnie Doon – 40km
There is an interpretive sign and toilets at the former Cathkin Station. After crossing the highway go straight on for Bonnie Doon and Mansfield or veer right for Alexandra.
This section has the biggest climb up to the highest point on the rail trail at Merton Gap.
Compacted gravel surface trail
Yarck and Merton are small towns with only basic facilities.
Bonnie Doon to Mansfield – 22km
Bonnie Doon offers a wide choice of facilities, including accommodation, a bistro, store and fuel. Originally known as Doon, the township was situated on the Brankeet Creek, then 1899 its name was changed to Bonnie Doon. The town was forced to move in 1956 to higher ground, when a massive earth dam wall was completed at Eildon and the Lake Eildon filled.
No real hills in this section, the trail is bitumised granite surface.
A highlight is the 385m long former railway bridge over the Brankeet Arm of Lake Eildon, that a special sight when the Lake waters are up.
Approaching Mansfield on a clear day, Mt Buller is clearly visible, a real treat when covered in snow.
Cathkin to Alexandra – 13km
A significant slow climb both ways on this section with panoramic views of the valley at the top of the Gap.
Bitumised, granite surface to the gap and compacted gravel surface trail to Alexandra
Alexandra was discovered in 1824 by Hume and Hovell. The town was originally known as a gold mining centre, then its main business activity embraced timber, later agriculture then more recently tourism. Its former station is now houses the Alexandra Timber Tramway

No listing items were found!
Please try an alternate search.