Be heard on your daily commute.
UPDATE!
I got to use my horn for the first time in anger last night on Chapel Street.

#1 Was a car that turned into a car spot at the last minute. The driver immediately stopped, and was apologetic. Thank you driver.
#2 Pedestrian crossing the road without looking, she was infuriated that I disturb her from getting cleaned up. With eyes open, life could be much better.

It sure bloody well works.
Lately I've been having far too many close calls with pedestrians blindly walking across the road, and cars mindlessly cutting me off on my daily commute into the city along bike lanes and the bike trails in Melbourne. I find I can ring my bell as loud as I like, however this sound doesn't seem to register in the modern psyche.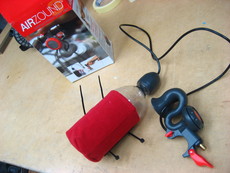 Recently I came across this, the Air Zound 3 air powered horn, 115 decibels of pure awareness that I knew would change my life, perhaps even save it? This how I set the groovy and freekin' loud horn up on my ride.
It comes in a cute little box, and contains a small air reservoir connected by a small tube to the business end of the device – the horn! The tank gets pumped up to around 80 psi with your bike pump, which is good enough for 30 hoots at maximum blast.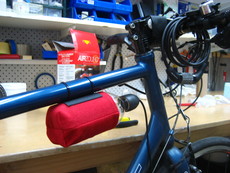 The tank is affixed to the frame, choose anywhere you like with a bit of velcro and some cable ties. Simple! Its also possible to fit a larger tanks, e.g. a coke bottle which is interchangeable with the standard one.
I chose this area, as I like to take a drink sometimes and have a water bottle fitted. I also tend to carry my bike from time to time up stairs and hang it on the hook with the seat pole strut, so it was decided the tank's going here.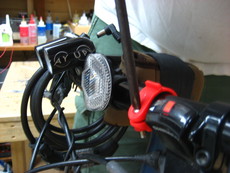 The horn is attached to the handlebars with the usual plastic ring with some rubber underneath to keep it all in place. Once secured, the horn just hooks on and is ready to go.
Then it's just a matter of pumping that sucker up and getting yourself ready to blow the horn.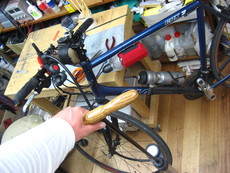 Check out this short veeedeeeo of the horn in action.