Ride 2 Work craze spreads

Riding to Work is the latest craze as people begin realising the multitude of benifits which surpass the costs, inconvenience and frustruation of driving and public transport when getting to work.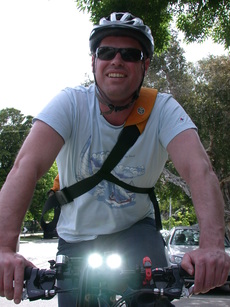 Exercise is the key to well being, and arriving at work in the morning with your daily dose done will make you feel like a million dollars. Exercise gets the endorphins flowing and cycling is a great form providing stress release.

No longer will you be stuck in traffic, jammed into a train, waiting for the tram. There is something great about moving through the peak hour bustle, getting to work efficiently and doing something to reduce your carbon footprint.
<!—[if gte mso 9]> <![endif]—>
Long-term health benefits include increased strength, improved muscle tone, decreased body fat and reduced risk of cardiovascular disease, diabetes and some cancers. Remember, bike riding should not feel more strenuous than walking unless you want it to. Don't push yourself too hard at first.

Ride 2 Work cyclists are not only saving huge slabs of time, getting much fitter but have thousands of dollars to spare (reported from $6,000 – $15,000) from savings they are enjoying on fuel, car repairs, public transport tickets and parking. The blogs below explain how to get started and safely make a 'transport' sea change to your life. There's heaps more in the Guide including Ride2Work maps, gear selection, cafes enroute and street smart tips.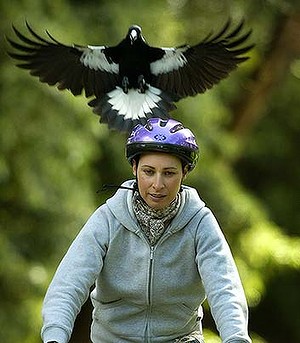 How to survive or prevent an attack Yes, it's that season again, when magpies swoop and cyclists are skittish. Just as it starts to warm up and the mornings aren't quite as dark comes the ever-present threat of feathered 'magpie' fury from the sky. Magpies raise their chicks once a year in Spring and in the short window between hatching and first fledglings leaving the nest, some males may aggressively...

Keith Dunstan, droll master of words and voice of Melbourne cycling, the Don Bradman of Australian newspaper columnists has died, aged 88. The Age's Lawrence Money reports in The Age: In the 1960's he was one of this city's pioneering ride to work devotees. In 1967, he started the Anti-Football League, which, although it failed to suppress football, ran for 30 years. In 1972, he was founding president...

by Mike Sabey CYCLISTS who refuse to wear helmets are more likely to ride in ways that put them at risk, according to a 2013 NSW study of 6700 bike riders who collided with motor vehicles.The authors of the study say the evidence demonstrates the value of compulsory helmet laws, which some cyclists and researchers want repealed to try and increase the popularity of cycling.The evidence says helmets work: they...

2wheelmike asks: Is it time to have their bikes impounded?s Whether I'm on my bike, Vesap scooter or a car I often get annoyed seeing my fellow cyclists who flagrantly ride through red traffic lights. Despite the $354 fine when they are caught and a few surprised mates of have had to recently pay up, mostly I hate the bad name these 'red light runners' bring to cycling.I'm sick of the...

Last year millions of Australian's saluted his maginficaent Tour de France VICTORY. Now his victory is having a Cadel Effect! Cadel Effect CYCLING in Victoria has surged since Cadel Evans won last year's Tour de France, but it's not just Lycra-clad speedsters taking to the roads and trails.Bike store owners reported a huge surge in new bike sales soon after his landmark July win and even the sales of our latest BikePaths...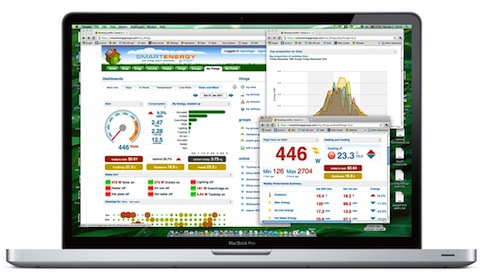 Melbourne designed Smart Energy Groups helps householders conquer power wastage ! As a cyclist you save heaps when cycling to work or touring and are probably very climate conscious, but what about your energy use at home? Until now, householders have had no way or discovering why their power bills have been forever soaring. However, dozens of worried Victoria homeowners and a raft of savvy commercial businesses in recent months...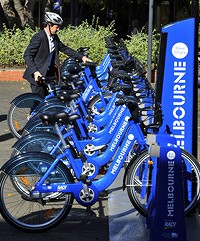 Melbourne cyclists have welcomed the city's first public bike share scheme being operated by RACV that is now underway.The first 100 distinctive electric-blue bicycles have been installed at special docking stations across the CBD. (pic above courtsey The Age)Ten stations commenced operating at the end of May along the Swanston Street/St Kilda Road corridor through to Melb Uni.30 more stations close to public transport will progressively added by the middle...

Lyn's common sense bikepath use suggestion needs your comments. More than 60 visitors have now blogged us with their views, most supporting her concept. Lyn from Doncaster writes: I am attempting a change in approach and create more simple and sensible shared bike/pedestrian path rules. When I was a youngster and we often walked along roads without footpaths, we were always taught to walk on the right hand side facing...